Control Room
Our control room is a comfy place that features multiple DAW software platforms, (Logic Pro, Pro Tools), Lynx Aurora (n) and Burl Analog to Digital converters.  Also our in our refurbished 1970's Quantum Audio Labs console. 
Main Room
Our main room is a fun blend of art and science. It has been acoustically treated for a variety of recording and rehearsal applications, and is designed with four quadrants that allow for a controlled transparent environment. Because some places have a feeling attached to them, the room can also be configured to capture the distinct character of the space. The unique history of the building includes the last twenty years as Nightsound Studios, and before that it housed Lloyd Street Studios in the 1990's.  We've been told a lot of mojo and vibe from 30 years of Chapel Hill/Carrboro music history is still in there, and even after recent renovations and added acoustic treatments, we believe it. As a recording space it accommodates large bands of 1-8 people for recording applications and up to 10 people for rehearsals.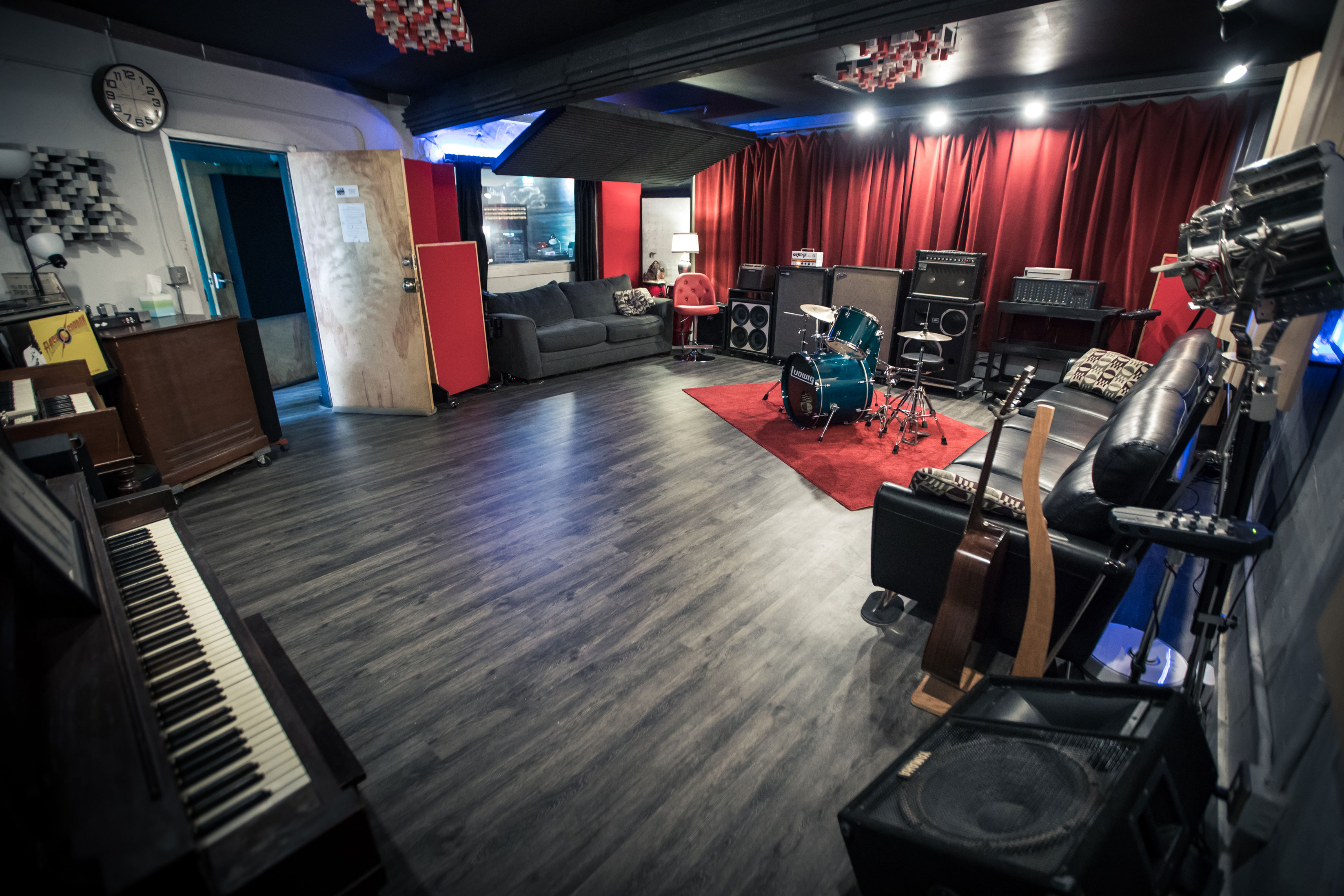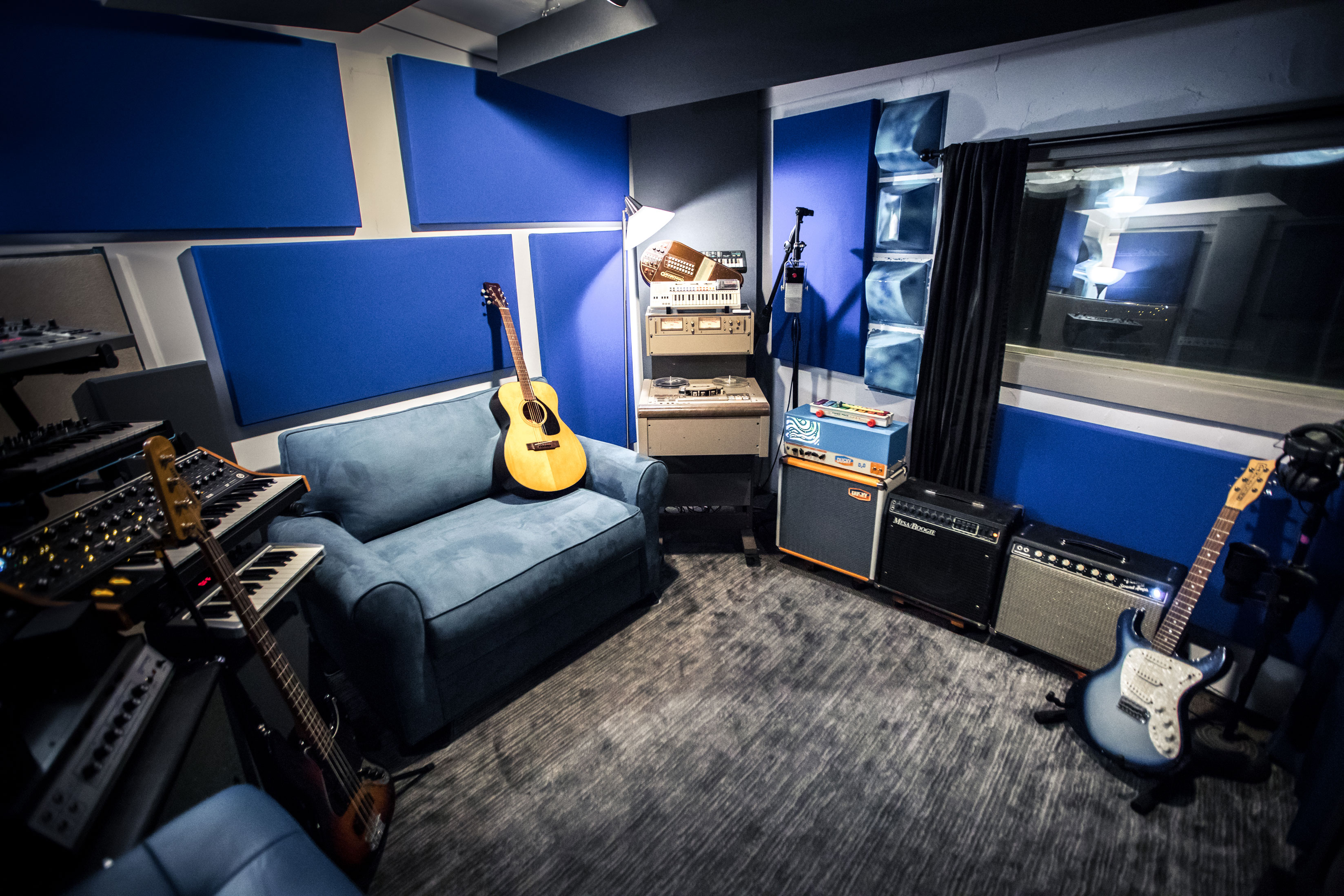 The Blue Room
Smaller than our main room, our "blue room" comfortably allows vocalists or dual instrumentalists plenty of room to move about. This room features a variety of vintage and modern keyboards, guitar amplifiers, and one of our analog tape machines. Sonically designed as a controlled environment where nothing bounces around on the walls, this room is excellent for voice-overs, vocals, or instruments recorded in an isolated space.
The Nightsound "Rehearsal Barn"
Our newest addition is intended solely as an affordable, equipped, and acoustically controlled rehearsal room for a four-piece band. The "barn" is furnished with a drum kit, PA, bass amp, guitar amplifier, and a combo bass amp. While it can comfortably accommodate four musicians and their instruments, groups larger than four are encouraged to use our main room. The barn has also been used as a space for practicing soloists, a production space away from the studio's main building, a place for guided instruction, and a spot where husbands, wives, and parents get away from it all for some personal musical time. It boasts a small mini-fridge for when you get thirsty.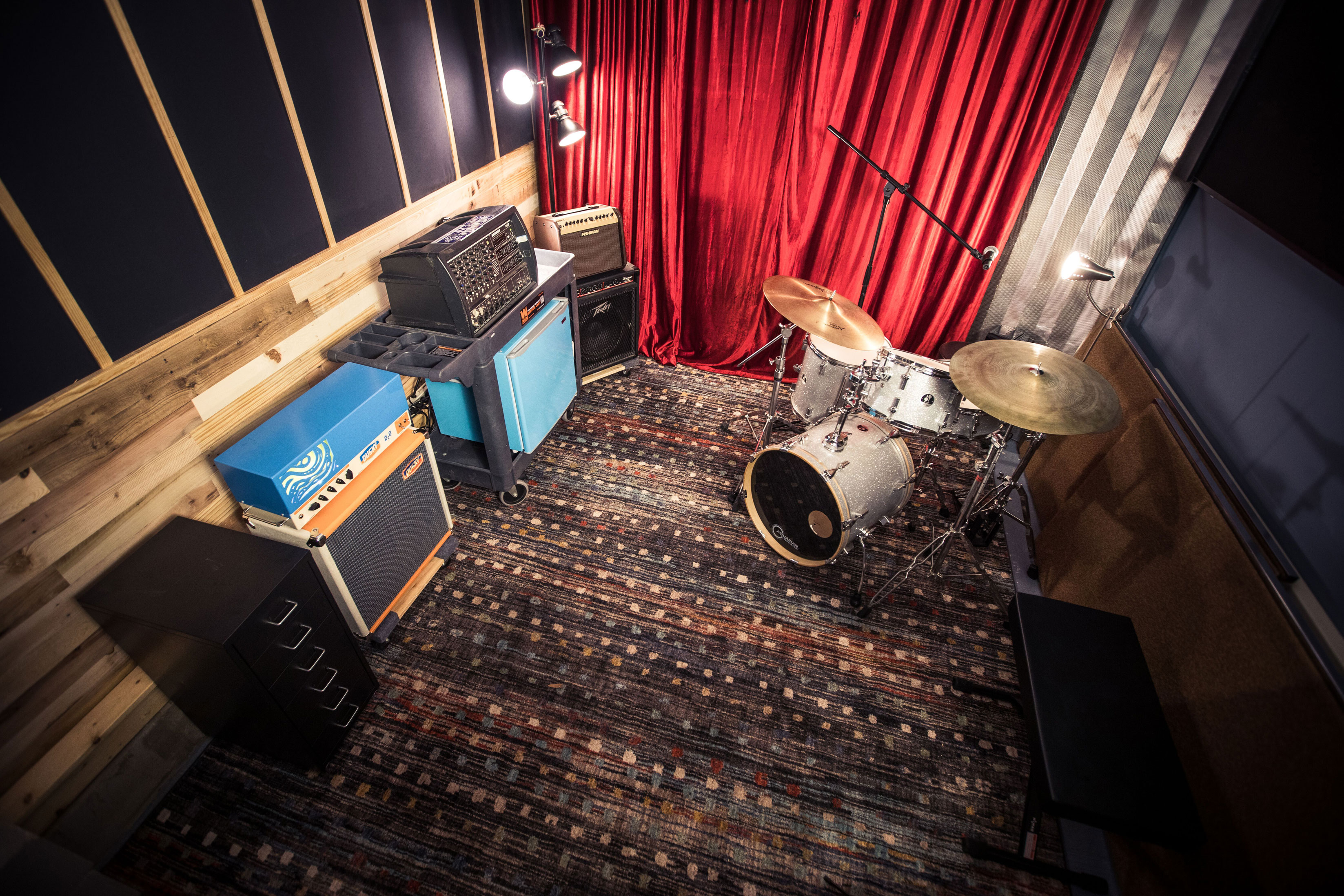 Our Gear List – Click subcategories to expand
Recorders
Digital Recorders

Lynx Aurora (n) 24/16 channel, (32 bit 192KHz sample rate)

Lynx Aurora AES 16e w/thunderbolt card

Burl B2 ADC (up to 192kHz sample rate)

UAD Apollo-twin-solo

Mackie SDR 24 track 48/96kHz recorder w/ Mackie 24 remote

Tascam CD Burner CD-RW4U

Korg 1BIT DSD Mobile Recorder MR-1000

ADAT, DAT, and other media available upon request.



Analog Recorders / Converters

Otari MX-80 : 24-channel 2 inch multitrack recorder

Otari Remote Control Unit CB-124

Otari Auto Controller CB-120

Tascam ¼" machine ATR-60

Tascam 32 ¼" machine 
Console / Mixers
Quantum Audio Labs Inc.  Series 22 (refurbished / modified)

16 channel Mono 5 channel stereo 4 bus 

Monitor section w/ Jim Williams Mod 

22 channels of classic quantum audio eq

Cinemag transformer preamps on each channel 

Sidecar mixer – Speck outboard fader system VF10M 

Sidecar mixer – Speck outboard fader system VF16M

Sidecar mixer – Yamaha M430 8 channel mixer w/ Jensen Transformers  
Monitoring
Genelec Monitor 8040B Bi Monitoring System

Inward Connections DMS-3 Monitoring Controller

Yamaha NS10M monitors (custom red)

Wharfdale EVO 4.4 HiFi stereo speakers (main room playback) 

Presonus HP60 – 6 Channel headphone amplifier 

Hear Technologies hearback system  

Rane Headphone Amp HC-6

Dorrough Model 40-A Loudness meter

Denon diamond needle DPDJ151 turntable  

Headphones by Beyerdynamic, Direct Sound, Fostex, Senheisser, Vic Firth
Microphones
Large Diaphragm Condensers
(1) Neumann U67

(1) Bock 251 

(1) FLEA tube U47

(2) Microtech Gefell M930

(1) Microtech Gefell M910 

(1) Charter Oak SA538B

(2) Peluso P-414 (1976 AKG 414 replica, matched pair)

(1) Shure Beta 87
Large Diaphragm Condensers (FET)
(1) Bock Audio 195 FET

(1) Heiserman U47 FET

(1) Mojave MA301 FET
Small Diaphragm Condensers
(2) Schoeps CM6 MK4 (matched pair) 

(2) Josephson E22S (matched pair) 

(2) Mercenary Audio KM69 (matched pair, based on Neumann KM84)

(2) Shure SM81s
Ribbons
(1) AEA r44 CXE

(1) AEA R84

(2) Beyer M160

(2) Cole's 4038 (matched pair)

(1) PPA R-One

(1) Royer R121 
Dynamics
(2) Shure SM-7B

(4) Shure SM-57

(1) Shure (greneli w/ transformer mod) SM57

(3) Shure SM-58

(1) Shure Beta 52

(1) AKG D112

(1) AKG D12-E

(1) Sennheiser E609
(1) Sennheiser MD-421-U-5
(1) Sennheiser MD-421 II
(2) Sennheiser MD-441
(1) Electrovoice RE-20
Various other (weirder) mics
(1) Behringer ECM 8000 (acoustic analysis mic)
Preamps
(2) Ampex Mic Preamp 601 (custom)

(3) Helios 500 Type 69

(2) Neve 1073LB

(1) API 512C

(1) API 312 (very early 1970's version)

(4) API 3124 

(1) Electrodyne 501

(2) Shadow Hills Mono Gama

(1) Great River Electronics Mercenary Edition MP-500NV

(1) Crane Song Syren Tube Pre-amp

(1) Inward Connections Magnum

(2) Sphere M1200B

(2) AEA RPQ2 ribbon mic preamps

(2) Melcor GME-20 w/ EQ Unit (classic 1950's Olympic Studios pres)

(1) Avedis MA5

(2) D.W. Fearn Tube Pre-amp

(2) AEA RPQ2

(2) Millennia HV-37

(22) Quantum Audio Labs Console preamps with Cinemag Transformers

(1) REDDI Tube pre bass direct box
Compression
API 2500 Bus Compressor

1176 Rev A (hairball build to UREI specs)

1176 Rev D (hairball build to UREI specs)

Retro 176 Limiter

Retro STA-Level Compressor

Shadow Hills Dual Vandergraph

Shadow Hills Mono Optograph

IGS ONE-LA

(amazing sounding LA2A hardware clone)

ACME Opticom XL3A 

Safe Sound Audio Dynamics Toolbox (2ch)

Inward connections The Brute Limiter

ADR Compex Limiter F760X-RS (2ch)

(2) dbx compressor/limiter 560A
EQs
(1) API EQ 5500 Dual EQ (stepped)

(1) API 560B

(3) Helios type 69 EQ

(2) Maag EQ4

(1) Kush Audio Electra

(1) Neve 1073LB EQ

(1) Avedis E27

(1) DON Classics 250EQ  (GML 8200 replica)

(2) Electrodyne 511

(2) GME / Melcor EQs

(2) Vintech X73i (Neve 1073 EQs)

(16) mono channel Quantum Audio Labs Q22 EQs

(6) stereo channel Quantum Audio Labs Q22 EQs
Effects / Signal Processing
Signal Processing 
Bricasti Design M7 reverb 

Lexicon PCM70 digital effects processor  

Roland DEP-5 digital effects processor  

Effectron I echo unit 

(2) Radial EXTC reamper modules (for stereo reamping w/ pedals!)

Nightsound custom transformer mid/side matrix processor "Oriel" 

Folcrom Passive Summing RMS216 ( can be used with any of our preamps!)
FX Pedals 
Noise Kick FX – Greg's Place Reverb

Mesa Engineering Grid Slammer distortion

Earthquaker Devices Acapulco Gold distortion

Electro Harmonix Freeze Sound Retainer

Catalinbread Echo Rec tape echo

Strymon Sunset dual overdrive

Dunlop Rotovibe JD4S 

Ross Distortion
Monitoring
Genelec Monitor 8040B Bi Monitoring System

Inward Connections DMS-3 Monitoring Controller

Yamaha NS10M monitors (red)

Hear Technologies hearback system  

Rane Headphone Amp HC-6

Headphones by Beyerdynamic, Direct Sound, Fostex, Senheisser, Vic Firth
DAWs / Software
Logic Pro X (10.5 as of October 1st 2020)




Pro Tools 12 




Izotope rx




Komplete 12 Software Instruments 




Steven Slate, Trigger 2 (Drum Replacement/Augmentation software)



Plugins & Additional Hardware Processing 
Universal Audio UAD2 Octo tbolt satellite




Universal Audio UAD2 Quad tbolt satellite




Universal Audio Duo tbolt satellite



Software Tape Emulators
Ampex ATR




Studer A800 tape emulator




Oxide Tape emulator



Software Reverbs
UAD2 Lexicon 224 reverb




UAD2 Lexicon 480 reverb




Valhalla Vintage Verb  (PCM70, 80 algorithms) 




UAD2 Ocean Way studios 




UAD2 Pure Plate




UAD2 AMS RMX16 reverb & expansion 




UAD2 EMT 140 Plate reverb



Other software signal Processing
Precision Enhancer Hz




Precision De-Esser




Precision Limiter




Little Labs IBP




SPL Transient designer



Software Compressors
Teletronix LA2A collection




LA3A compressor




UA 1176 collection 




Neve 33609 compressor




Fairchild collection



Software EQs
Neve 1084




Neve 1081




Helios 69 EQ




Pultec Classic EQ Collection 




UA 610-B Tube Preamp / EQ



            Many other plugins by…
Audio Damage




Blue Cat Audio




Camel Audio




Celemony (Melodyne)




Flux




Izotope




Klanghelm




Massey




Plugin Alliance




Softube




Sonimus




Sound Radix




SPL




Stillwell Audio




Tdrl




Vacuumsound




Valhalla DSP




Voxengo



Combo Amps and Amp Heads
Vintage Sound Amplifier Vintage 15 (Rick Hayes made, Princeton Style)
Garland Ruby Model 56 (Andy Church made, boutique fender tweed)
Dusky D20 amplifier (pair with Dusky Hydrogen 12" cab, made in NC)
Swart mod 84 combo amp (marshall / vox sound, made in NC) 
Roland Jazz Chorus 55  
Mesa/Boogie Studio .22
Ampeg B15N Bass amp combo (Fully serviced 2019) 
Gallien Krueger – 800RB Bass Amp head
Ampeg Rocket Bass combo
Fender Stage 100 DSP Acoustic Amp
(1) Fender Acoustasonic amplifier  
Orange Tiny Terror amplifier head
Speaker Cabinets
Leslie rotary cabinet w/ vox AC15 amp head 

Avatar 2 x 12 cabinet w/ Greenback speakers

Sunn 215s  2 x 15" cabinet w/ Eminence Delta speakers  

Agular 4 x 10" cabinet 

Fender Dual Showman (silverface) 2 x12 cabinet

Dusky Hydrogen 12" open back cab
Instruments
Guitars

Danelectro Danoblaster Innuendo electric guitar with onboard fx

Fender Special Edition Custom Telecaster FMT HH black cherry burst

Fender Jazz bass with dual humbuckers

Fender 5 string Precision Bass

Fender Mustang Bass  

6 string nylon acoustic guitar 

Martin D1R Rosewood Acoustic Guitar  

Keysboards, Organs, Pianos  

Dexibell VIVO S7 weighted 88-key 24bit 48kHz unlimited polyphony studio piano

Moog Sub-37 

Roland Juno-60 synthesizer (1982) 

Roland MC505 drum machine /sequencer

Korg DW-8000 Analog / Digital synthesizer 

Korg Novation Bass Station II

M-Audio Oxygen 8 midi keyboard

Casio PT-80 mini keyboard

Casio SK-1 sampling keyboard 

1908 converted upright player piano (lots of character)

Hammond M3 Organ w/ Leslie Cabinet and speaker mod

Drums, Percussion

C&C player date II – Bonzo 4 piece drumkit

maple/mahogany/maple

14×24" bass drum, 9×14"tom, 15×18 floor tom, 

Ludwig Rocker Elite 5 piece drumkit

(birch)  

16×22" bass drum,12×8 tom, 16×16 floor tom 

Sonor Bop kit 

18×16" bass drum,12×8 tom,14×12 floor tom, 14×5 snare

Gretsch 18 x 22 bass drum 

Gretsch 16×16 floor tom (catalina maple)

Ludwig rocker wood snare (green)

Metro signature series 14" wooden snare

DW custom 13" purple heart snare

Ludwig 14" metal/wood hybrid snare

Tama 14" metal snare

Rogers 14" metal snare 

Slingerland 14" metal snare 

Meinl Byznance Vintage 18" Sand Medium Crash

Aged Zildjan high hat (buried for decades in holy ground for the perfect tone)

Iron C

obra kick pedal

Ludwig kick pedal

Glockenspiel

Children's xylophone

Thunder drum

RhythmTech Eclipse Congas 11" and 10" set

Various tambourines, shakers, sticks